JDV + Züercher Technik, Joint promotion of Taiwan Excellent Valves, for enhancing international business opportunities, to expand the brand more competitive internationally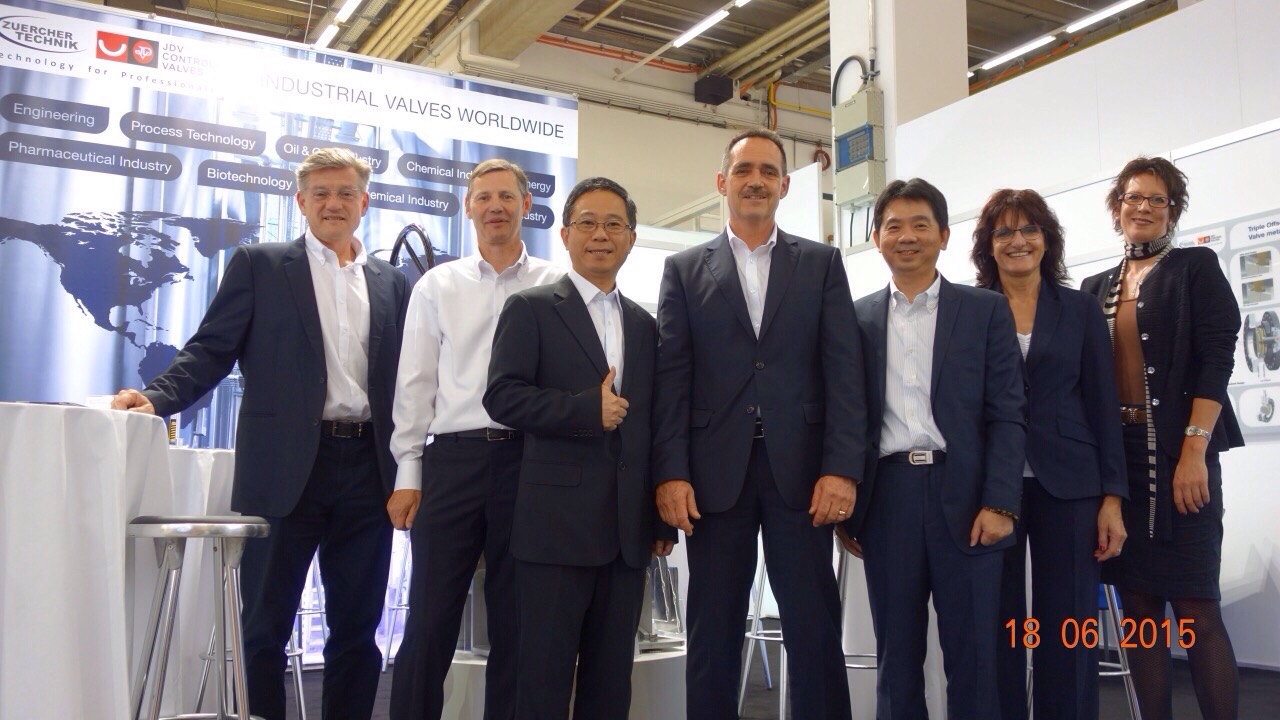 Mr. Steven Fan, JDV's president, led off to participate 2015 ACHEMA exhibition, high-lighted the subject of "JDV's Products, World Boutique." and held a series of brand promotion activities , and set out to expand JDV's own brand into the European market. Joint with European partners Züercher Technik plant, JDV promoted the full series of high-tech control valve boutique and the related advanced technologies about manufacture, environmental, and safety. Not only the metal seal ball valves and butterfly valves are used in the heavy industrial applications of petrochemical, oil and gas, refinery, power plants, textile, steel mill, optoelectronics, etc., but also in the industries of chemicals, pharmaceutical, food. JDV has created a full range of integrated valve technologies in advanced application processes.
At 2015 ACHEMA Exhibition, JDV brought 3 types of our Taiwan Excellent Award products :
●triple-offset butterfly valve,
●high shearing function v-bore flow control valve
●low emission metal seal low-temperature ball valve.
Above products are well-known because of JDV's leading metal seal technology and green philosophy concerning environment and safety protection, which concepts are the core spirit of Taiwan Excellent Award.
These high-tech control valves are stated the features of "anti-abrasive, low emission, high performance", and contribute to the air pollution deduction from 1,800PPM to 21PPM and avoid harmful emission air, widely reduce air pollution for protecting our earth.
Full series of JDV's products are designed for critical conditions such as high temperature, cryogenics, high pressure, abrasion, high corrosion etc; and designed for application in petrochemical, oil & gas, refinery, power plant, steel mill, semi-conductor, chemicals, pulp & paper, fabrics, etc.
In addition, at the exhibition site, JDV proposed innovative solutions for the petrochemical, steel process piping applications, and for a variety of air separation pipelines, gas line applications. The solutions have been widely adopted by clients worldwide, such as TOTAL, ABB、SHELL、DOW、BASF、ROCHE、BAYER、LINDE、NOVARTIS、NESTLE、SYNGENTA、TATA STEEL、HITACHI、TOYO and Singapore Water Authority etc.
JDV's valves is not only satisfying world-class standards, but also JDV is leading the Taiwan valve industry to build owned test / inspection laboratory. JDV cooperates with the Taiwan National Laboratory, and adopts a variety of the highest safety standards or certifications. All the above endeavours are for the goal to achieve the most stringent standards of low dissipation, low emission and low energy consumption. In addition, JDV is FIRST valve maker in the Great China valve industry to get the SIL3 certificate.
JDV's valve is not only a part of the industrial elements but also an important key to contribute to the industrial safety and sustainable environment. JDV will strive continuously to provide all customers with the most advanced technologies, and best solutions related to Energy-saving & Carbon-reduction. JDV sincere wishes to look forward to work with customers, hand-in-hand, to create a brighter future.
In 2015 ACHEMA exhibition, JDV's particular metal sealing technology got a lot of visitors' favour. Visitors stood at booth for a long time and has a wide discussion with JDV. Especially JDV's Taiwan Excellence Award products have won by European visitors' unceasing praises.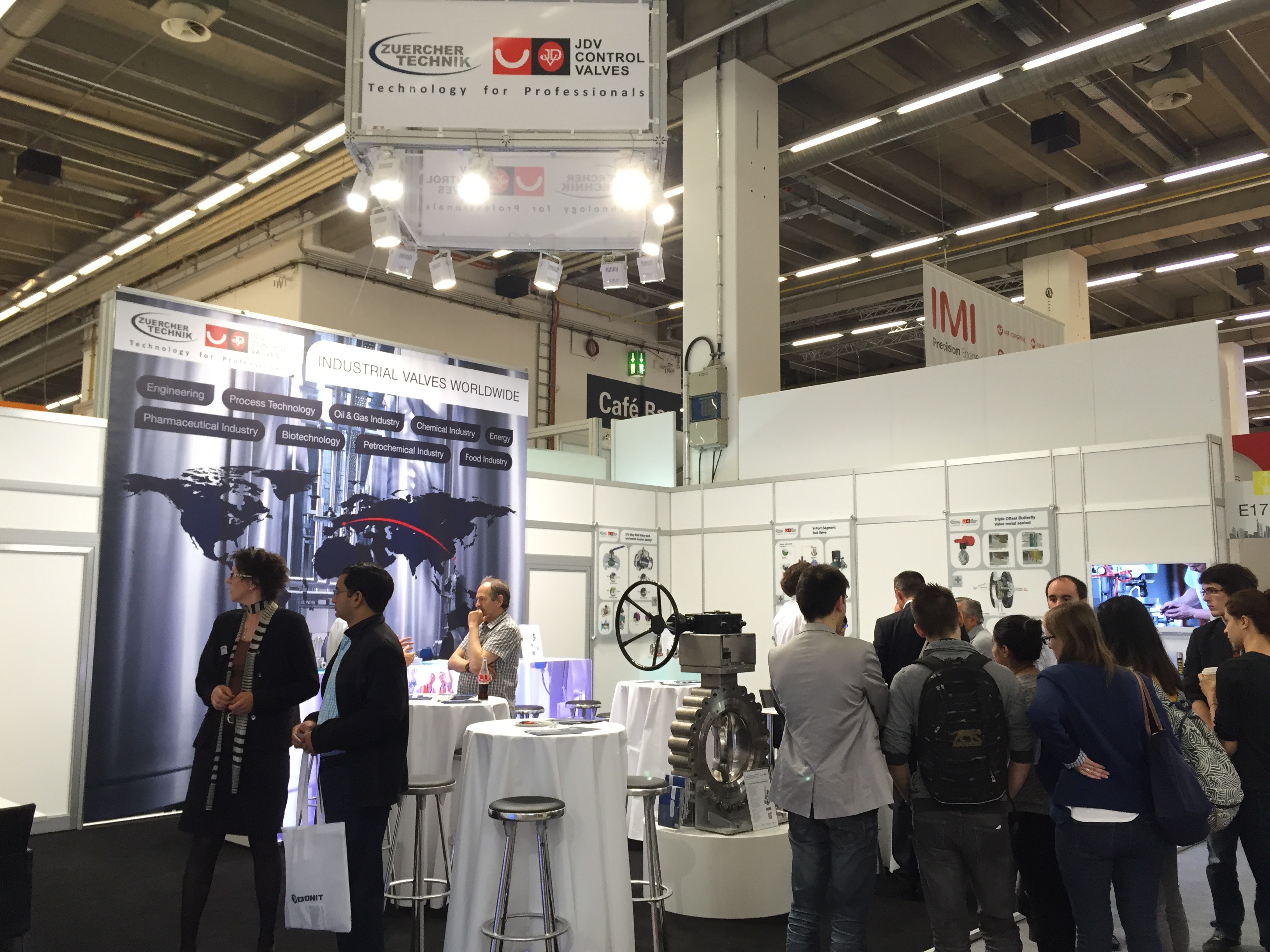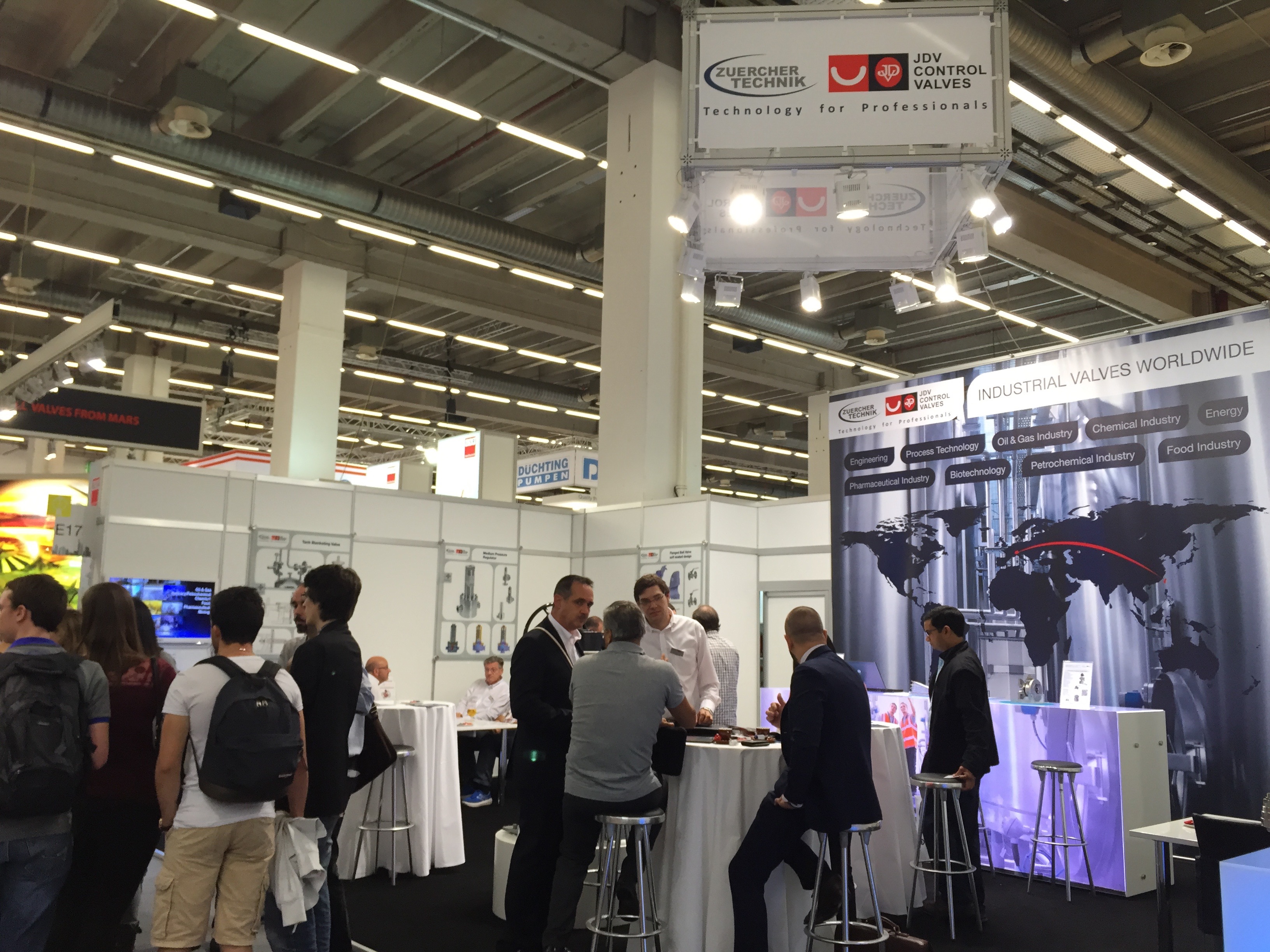 The leading brand of control valve in Great China area– JDV owned an advance technology of metal seal, application for high temperature- proof ( up to 800℃), low temperature-proof (-196℃), high pressure-proof (class 2,500), anti-abrasion etc. Providing stable, reliable, safe, eco-protection service for customers. JDV Control Valves Co., Ltd established in 1975, is the largest valve company owned lots of certificate & patents. Products are according to ANSI、JIS 、DIN 、GB standard, application in petrochemical, oil refinery, power plant, steel mill, semi-conductor, chemicals, pharmaceutics, food etc., marketing to North American, Europe, China, Mid-East, East Asia, South-East Asia etc. there are 41 service locations around the world, shareholders are from brand, marketing, manufacture, financing area, includes ACER Group, China Steel Group, Mega Holdings. For more information, please get on our
website: http://www.jdv.com.tw/